Melbourne Cup Betting Offers 2023
Last Updated 3 days ago | Commercial content | 18+
The most anticipated horse race in the Australian horse racing world — the Melbourne Cup, held at Flemington — is getting closer and closer which means that bookmakers and fans are waiting in anticipation for the big day. The stakes are high so let's dive in and see what you can expect if you plan to place a bet on the Melbourne Cup this year, be it an outright bet (which of the horses will come in first place) or any of the other available bet options.
What are the Melbourne Cup Betting Offers?
Currently, there are no available Melbourne Cup bet offers for new customers, so you'll have to hold your horses for the time being. We'll update the relevant bet-related information as it becomes available and race day approaches. Make sure to check our table below, in order to see available operators for the Melbourne Cup.
Bookmakers
Melbourne Cup Betting Offers
Features
Melbourne Cup Betting
bet365 Live Streaming Disclaimer: 
Watch your favourite sports on mobile, tablet & desktop including games from Europe's top domestic Soccer leagues and Grand Slam Tennis tournaments, as well as Horse Racing from selected Australian, UK and Irish tracks. All you need is a funded account or to have placed a bet in the last 24 hours to qualify.
Live Streaming is only available to eligible customers, and availability may be determined by the status of your account. If you are unable to watch live sport with bet365 and you are unsure of why this is, please Contact Us.
Under Australian law, we are required to inform you that Live Streaming on bet365 is exempt from Parts 3 and 4 of the Broadcasting Services (Online Content Service Provider Rules) 2018.
You should keep in mind that, due to regulations, online betting sites operating in Australia do not show their promotional offers to unregistered customers. That is why, when you are deciding which operator is the best to register with, we would advise you to seek out and use a guide such as this one. It's where you will get tips and precise information about the operators, without having to commit to registering.
What do bookmakers offer for the Melbourne Cup?
Melbourne Cup Special Offers
There are no current Melbourne Cup special offers to show but it's worth checking the operators' websites for more information, including their odds and stakes for each of the horses (for more details about the odds, check the Melbourne Cup odds). Knowing the scope and cultural importance of the Melbourne Cup, as well as the long tradition of the Melbourne cup bets, operators will go out of their way to attract punters who want to place a bet on horses, jockeys and more for this legendary horse race. Whether you want to bet on who will win, who will place or which jockey will be riding the winning horse on the day, you can find all the best operators with whom you can place a bet on the Melbourne Cup this year in our article.
Melbourne Cup Betting: You should note that, due to Australian gambling laws, bookmakers are unable to provide betting offers in the form of a bonus, such as a deposit bonus.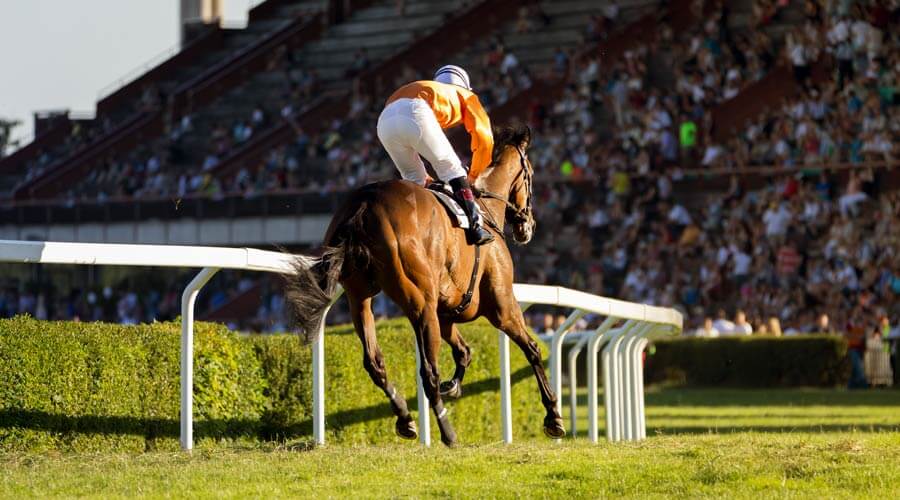 Melbourne Cup Betting Offers bet365
There are no bet365 Melbourne Cup betting offers to show. If you think you might want to bet with them, please visit their online website to find out more exclusive information regarding Melbourne Cup betting, such as their odds for each horse. We'll make sure to update our page with the most relevant and up-to-date information as race day approaches.
18+|T&C Apply
Melbourne Cup Betting Offers Unibet
Unibet has recently launched a brand new racing platform for those who want to bet on horse races. It promises daily odds boosts called Daily Uniboosts and Unibet Uplifts to qualifying customers (T&Cs apply).
So far, there is limited info about which events, or if a specific race, will be eligible for the promotions so we cannot confirm that Melbourne Cup bets will qualify. The operator refers customers to the Promotions page for any new information so we'll make sure to keep a close eye and update our page if you think you might want to bet with Unibet.
There are no available Unibet offers for new customers. Check the bookmaker's site to read more. Any additional info on bets on specific horses, the different bets available, etc. for this legendary Australian event will be available there.
Melbourne Cup Betting Offers Ladbrokes
Ladbrokes is another one of the operators we have big expectations from when it comes to the Melbourne Cup. At the time of writing, there are no new customer offers available online from Ladbrokes.
Outside of TAB bookmakers, the above are some of the most popular and experienced bookmakers available to Australian punters and will be able to provide an extensive array of bet options, and great customer service in case anything goes wrong for you on race day.
Top 5 Melbourne Cup Betting Offers
Bookmaker
Melbourne Cup Betting Offers
Melbourne Cup 2023

bet365

Check the site
Visit the site >>

18+, T&Cs Apply

Unibet

Visit bookmaker website
Visit the site >>

18+, T&Cs Apply

Ladbrokes

Check operator's website
Visit the site >>

18+, T&Cs Apply

PointsBet

Visit the site
Coming soon >>

18+, T&Cs Apply

Betstar

Visit bookmaker website
Visit the site >>

18+, T&Cs Apply
Melbourne Cup Past Winners/Runners and Results
| Year | 1st Place | 2nd Place | 3rd Place |
| --- | --- | --- | --- |
| 2022 | Winner – Gold Trip | Emissary | High Emocean |
| 2021 | Winner – Verry Elleegant | Incentivise | Spanish Mission |
| 2020 | Winner – Twilight Payment | Tiger Moth | Prince of Arran |
| 2019 | Winner – Vow and Declare | Prince of Arran | Il Paradiso |
| 2018 | Winner – Cross Counter | Marmello | Prince of Arran |
| 2017 | Winner – Rekindling | Johannes Vermeer | Max Dynamite |
| 2016 | Winner – Prince of Penzance | Heartbreak City | Hartnell |
| 2015 | Winner – Protectionist | Max Dynamite | Criterion |
Melbourne Cup FAQ
For any additional questions about the Melbourne Cup betting offers and other general questions about the event, we have prepared a short FAQ section.
When Is the Melbourne Cup?
The Melbourne Cup is held annually on the first Tuesday in November. This year, the horse racing event will take place at Flemington on November 7th. The race itself will start at 3 pm AEDT (2:30 pm ACDT, 2 pm AEST, 1:30 pm ACST, 12 pm AWST).
Where to Watch the Melbourne Cup Live?
If you want to follow the progress of each horse on the day, the Melbourne Cup will be streamed by a number of media outlets and your options will mostly depend on your location. In Australia, you'll be able to follow the event live on the day on Channel 7 and Foxtel, two of the main Australian media outlets, as well as their respective websites and apps.
There are also a number of betting operators who offer a live streaming service so you can expect to find it there. You should, however, have in mind that in order to give you access to live streams of sporting events, the operators will require you to have a registered account and a positive account balance. This could be a barrier for some users so make sure to verify everything is ready in advance. The availability will also be region-locked so you won't be able to access it outside the country.
Outside Australia, people living in the UK, IR and NZ will be able to follow the action live on TV through Sky Racing and Racing.com. Fans in other countries will have to check with local cable service providers or tune into a radio broadcast, if they want to listen for free, to find out how they can watch this horse race.
How Can I Find Melbourne Cup Betting Offers?
Most of the Melbourne Cup offers can be found on operators' websites, however, there are no current new customer offers. If you plan to bet on the Melbourne Cup, it is always a good idea to compare the offers and odds of a few different operators. As we have already mentioned, in order to see the actual promotional offers, you'll have to register as a new user. Although it's free to do so, the easiest way to do it is to follow articles such as this one.
What Kind of Offers Can I Expect?
There are no Melbourne cup betting offers available for new customers. We'll update this page with the latest updates from operators as the big day approaches. The offers will vary from one operator to another. In general, you can expect different Melbourne cup odds, stakes, additional funds, betting funds, etc. Every year, major operators get increasingly creative when it comes to major events with high stakes, like this one, so we are sure that this years' offers won't disappoint.
What is the Melbourne Cup Field 2023?
This year's Melbourne Cup Field and track will be announced in October.
What horse/runner is most likely to win the Melbourne Cup 2023?
It is still too early to say which horse, or horses, could be the favourite to be the winner of this Australian race in November, however, horses trained by Joseph O'Brien normally do very well. His horses will most likely have good odds if you're looking for a runner to bet on. Kerrin McEvoy, who has won three Melbourne Cup races in the past, could be seen riding Tiger Moth, trained by O'Brien, which might lead to him adding a fourth win on top of his current trifecta.
Which horses will be competing?
The almost-concrete order of entry will be revealed in October, letting you know which runners you'll be able to bet on. Due to potential last-minute injuries, the final listing won't be 100% certain until the day of the race.
Where can I place a bet on the Melbourne Cup 2023?
You can bet with any of the bookmakers we mentioned above.
For more information on how to bet on the Melbourne Cup you can have a look at the following pages: